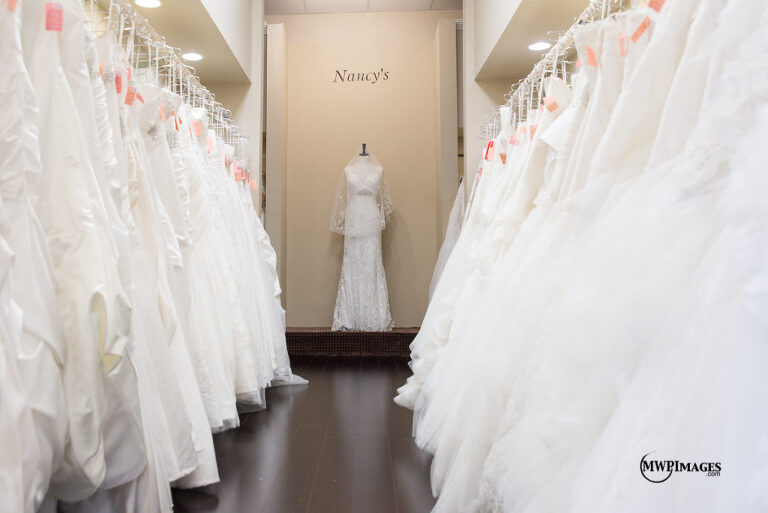 During this past summer I had the grand opportunity to meet Nancy Homsy, owner of Nancy's Bridal Boutique.  We chatted briefly before I proposed setting up a photo shoot using a few stunning wedding dresses from the boutique.  I had never made this approach to anyone before, let alone an owner of such a great store.  To my surprise, she kindly said yes!  I was on cloud nine already and had even set anything up.  Anyhow, I waited awhile and prepared myself with a model, makeup artist, hair artist, and venue and finally got around to pulling off an epic photo shoot. (Blog: Wedding Vendor Extraordinaire)
I say all that to get to this, I was amazed by the breathtaking beauty of this boutique.  Nestled in the Castleton area of Indianapolis, IN, you will find this gem which every bride-to-be should visit.  I know each and every bride out there has been dreaming of their wedding day since they were 13, maybe even before that, and I'm sure who have that specific dress in mind.  I bet you will definitely find what you are looking for here at Nancy's.  I can just image a bride and her mom, and bridesmaids spending hours in here trying on dresses and sipping mimosas, until they see that one!  The staff is so friendly, helpful, and knowledgeable that you may not make it  past the first round of mimosas.  Let's not forget the guys!  They also have a nice selection of wedding tuxes available too.
So, don't wait.  Reach your Cloud Nine and say YES to the Dress at Nancy's Bridal Boutique!